NEW TECHNOLOGY
IN CYBER SECURITY
Multiple Technologies
Working Altogether with Artificial Intelligence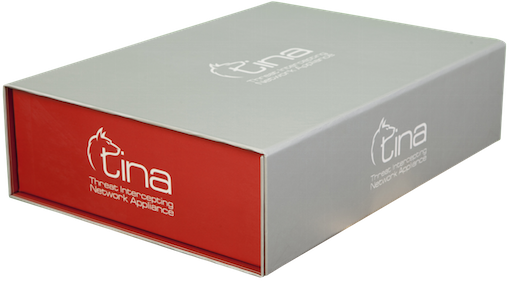 Hybrid Structure
Stronger with Local and Centralized Technologies
Giant Software, Green Technology
Designed for highest stability, while minimizing the energy consumption,
Tina hardware includes a "Giant Software" in it!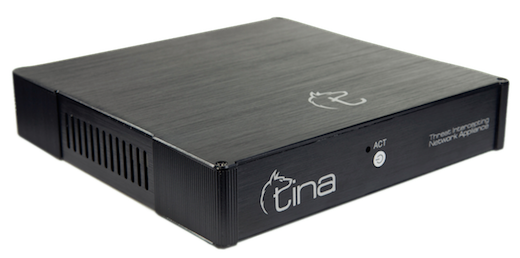 Technology Orchestra!
Capable of running deep data analysis and signature-based controls on hardware
 as well as behavior analysis and dynamic analysis using advanced methods of the central data base and intelligence technologies, all  integrated together in Tina software, with
 also file based blocking of cyber attacks by sandbox-assistance.
TECHNOLOGICAL BENCHMARKING
Tina is a new security layer designed for increasing security, in all cases.
Can be used both as an additional security or as a replacement for old security infrastructure.
Comparison with Firewall:
Tina examines internet traffic in bridge mode and does not require any routing. It is used without need for rule based management or an active modification. Management interface does not require learning; does not have any additional training load or active follow-up requirement.
IDS / IPS / Antivirus / Antispam Comparison:
Tina not just uses static analysis, but also is able to provide a stronger behavior analysis and dynamic analysis with honeypot services included.
Sandbox Comparison:
Tina has two layer file analysis in which stable conclusions are made faster by unique static-file characteristic analysis and dynamic analysis running on a real operating system. Tina sandbox analysis does not only include files, but also includes analysis of links and strong against especially browser based attacks.
Intelligence and Data Base Comparison:
Tina has a unified central data base mechanism like a neural network; that is feed by both local appliances and scattered worldwide intelligence network. Live feeds are shared among along all Tina network to increase success of defence.
TINA TECHNOLOGIES
Tina's unique and self developed, main technologies

Hardware based TINA TPI technologies
Instant Crime Analysis (ICA)
Enhanced package inspection technology that analysis protocols.
Equipped with artificial intelligence-based classification skills.
Can detect the addresses involved in the crime.
Can analyze and detect malicious command and control center of malware (C&C).
Monitors and analysis the domain name queries on the network.
Besides it's own technologies, uses antivirus & antimalware and various 3rd party data bases to detect harmful data traffic.
Instant Correlation Engine (ICE)
Enables interaction with Instant Crime Analysis and other modules.
Maps and benchmarks with databases.
Instant Interception Firewall (IIF)
Enables the implementation of decisions derived from Tina's automation, performs the automated firewall blocking of traffic and isolation decisions.
Controls traffic preventing, forwarding and client isolation when needed.

Emergency response option;

Turns off all the ports through external network and just enables basic ports (Web and/or e-mail) open.

Prevents the execution of basic remote shell code's.
Honeypot Services (HS)
Identifies and informs about activities against servers.
Detects and stops malicious malware and attacker activity on the network either already activated or trying to become active.
Detects and reports endpoint addresses of command and control centers (C&C) of malware and/or attacker
Protocol Analysis Investigator (PAI)
Most advanced Tina technology which enables detection of APTs with high ratio. It's a unique technology that uses protocol analysis for detecting and following suspicious connections either a new or an established connection. Works even it is a secured (SSL/TLS) connection.
Available in two separate modes;

Advanced PAI: protocol follows suspicious connections
Active PAI: protocol follows all connections
Central management and database technology
CTM Update
Central database that contains harmful resource information and all threat analysis
Performs data base updates 7/24 automatically

Updates the entire Tina's; performs 

database and software updates automatically
CTM Notification
Centre of alerting feature
Provides periodic reporting
CTM Management
Device overview screen (dashboard)
Provides instant reporting
Unlimited log storage capacity
Provides device management via Web
CTM SIEM
Module that enables log sharing via API

Compatible with multiple systems; provides easy 

setup, can be matched with SIEM
CTM Multidevice
Combines multiple devices into one account
Provides a single interface for tracking multiple devices
Enables reporting and commanding of each devices separately
Global detection systems
Global Honeynet
Trapped vulnerable systems for detection of bots and attackers that are searching for vulnerabilities in Internet.
Collects spams and/or targeted e-mails towards strategic sectors and forwards to CSI for further analysis.
Works interactive with CTM and activates traps by subject tracking if necessary.
Enhanced Domain Inspector (EDI)
Extensive server observation and inspection system detects threat by scoring, even the server may not implicated for a crime yet
Detects (region-specific only) phishing-based attacks even before crime elements created yet
Runs automatic scans on accessible Internet fields and deep Internet (deepweb) fields

File Inspection and Sandbox Technology
CSI
Feeds other Tina systems and technologies with central analysis, including both automated and supervised laboratory analysis.
Multiple Structure
Can examine more than one layer as; static analysis, dynamic analysis, behavior analysis
Besides file analysis, includes link and code tracking features on it's analysis
Monitoring and Support System
Analyzes data received from the CAT System and suspicious data demanded by Tina appliances.
Follows the links within the e-mails and analyzes
Data Privacy and Protection
Protects data privacy;

does not share any personal data, does not transfer out any personal data, does not analyze private data

Does not store any instance of files on sandbox analysis
Prevention Techniques Against Anti-Sandbox 
Accommodates prevention techniques against anti-sanboxing technologies
Sandbox analysis are operated on actual operating systems

TINA technologies are developed by
since 2014.